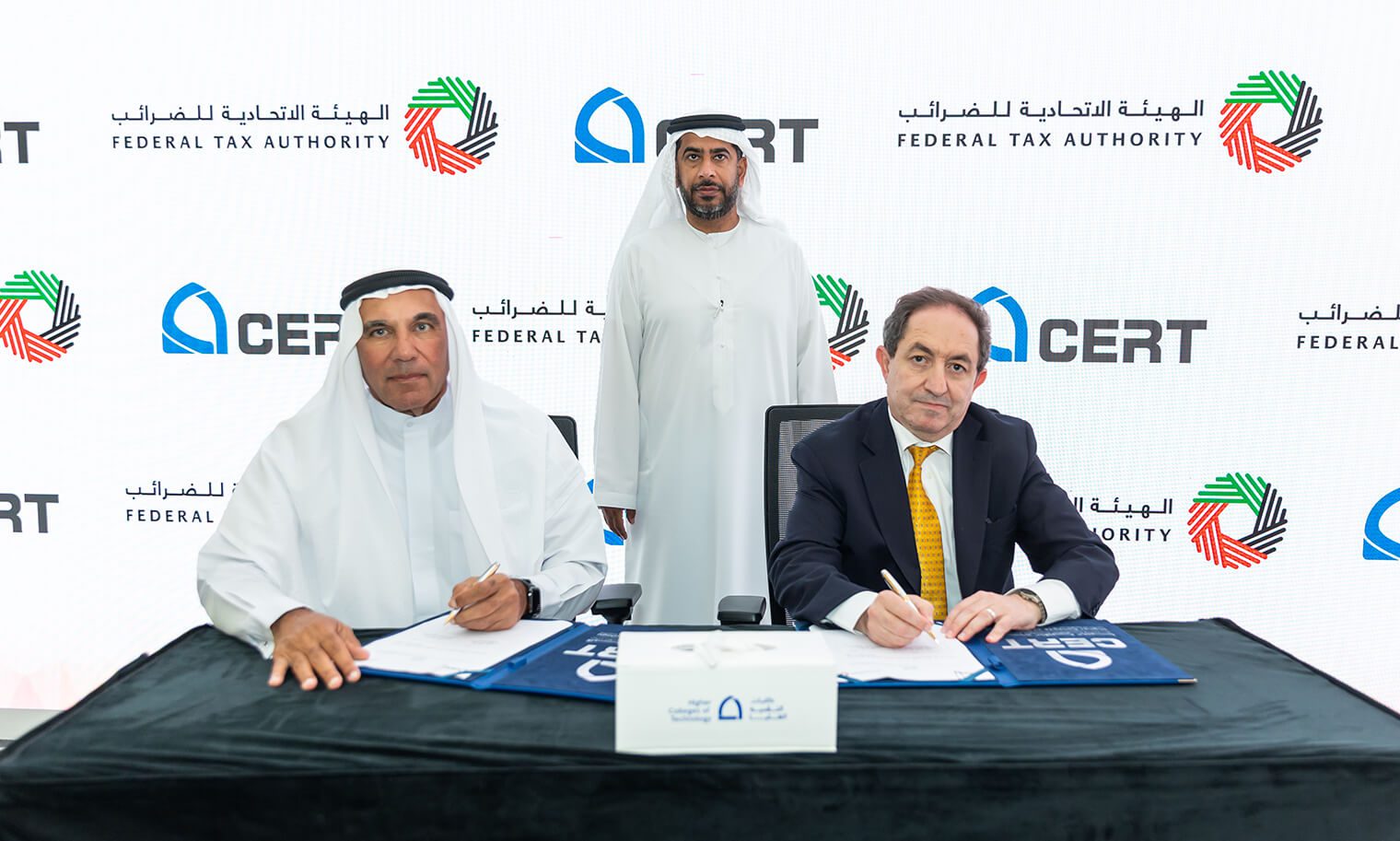 To enhance companies' performance in implementing tax return requirements
CERT and the Federal Tax Authority to Launch a Joint Training Program for Tax Professionals
The Center of Excellence for Applied Research and Training (CERT) and the Federal Tax Authority (FTA) are partnering to launch a joint training program for tax professionals aimed at improving companies' performance in implementing tax return requirements. CERT, which is the investment arm of the Higher Colleges of Technology (HCT), and the FTA signed a Memorandum of Understanding (MOU) to develop specialized corporate income tax training materials.
The agreement was signed by His Excellency Khalid Al Bustani, Director General of the FTA, and Dr. Mohamed Baka, the CEO of CERT, in the presence of His Excellency, Dr. Faisal Al Ayyan, President & CEO of the HCT and officials representing both entities, at the Head Office of the HCT, Dubai.
The MOU seeks to strengthen existing joint cooperation frameworks to enhance tax awareness and develop a taxation system that guarantees compliance and reflects the highest standards of governance and transparency. The partnership will develop the competencies of professionals working in tax and related sectors, through the creation of specialized corporate income tax content and a professional certification program.
In emphasizing the Authority's keenness to strengthen its strategic partnerships with government, private sectors, and educational institutions, His Excellency highlighted the vital role they all played in the successful implementation of the taxation system. The partnership reflects the commitment of the FTA and CERT to the government's 50-year plan to harness the talent and creativity of the nation's youth and work to build a brighter future for the next generation.
With the introduction of federal tax for companies and businesses from either the beginning of the fiscal year or June 1st, 2023, the joint cooperation would support the provision of specialized training programs for tax officials, such as tax declaration requirements and the calculation of corporate and business tax. The training would help companies and businesses achieve optimal efficiency in the implementation of tax regulations.
CERT, with its considerable experience in the field of training and qualifying national cadres, is proud to be working alongside the FTA, empowering those working in the field to embrace their new roles, while helping companies to adjust to the new financial regulations. The partnership aims to meet the training and development goals of various institutions and employers, by keeping abreast of new developments, building effective partnerships and creating specialized training programs.
CERT, in conjunction with the FTA, is currently preparing the content of the training program, including knowledge, skills, and training requirements. When the content has been approved by both parties, it will then be decided how the content can be incorporated into an approved Certificate in Corporate Tax.