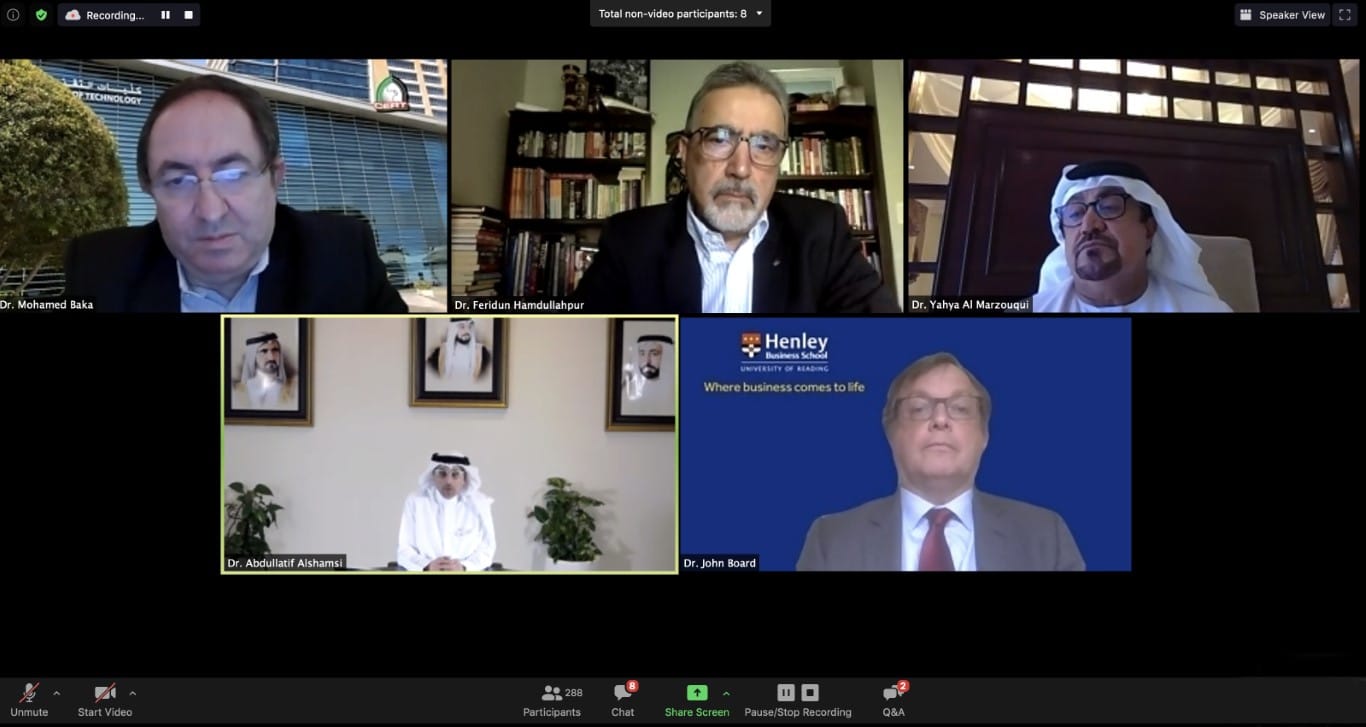 Abu Dhabi, : Aug 05, 2020
CERT Launches First Virtual Roundtable on Post-COVID-19 Education, Skills & Work
688 participants attended Majlis Al Ghad Roundtable centered on the Future of Education, 21st Century Skills & Employment 
Abu Dhabi, August 5, 2020: International leaders in academia and industry explored the future of higher education, employment and work-focused skills, as the Center of Excellence for Applied Research & Training (CERT) hosted the inaugural, virtual "Majlis Al Ghad" roundtable.
Majlis Al Ghad is a forum for virtual roundtable discussions, centered on the future of education, 21st century skills and employment, and their roles in post-COVID-19 economic recovery and strategies.
The roundtable was entitled "Redefining the Future of Education, Skills & Work Post COVID-19', and featured the following distinguished leaders:
H.E. Dr. Abdullatif Al Shamsi, President and CEO of the Higher Colleges of Technology (HCT)
Professor Feridun Hamdullahpur, President and Vice-Chancellor of the University of Waterloo
Dr. Mohamed Baka, CEO of CERT
Professor John Board, Dean of the Henley Business School at University of Reading, and
Dr. Yehya Al Marzooqi, Executive Director, Strategy at Tawazun Economic Council
Forum moderator, Dr. Mohamed Baka, CEO of CERT, said the event was a major milestone as it takes "the insights of thought leaders, industry experts and policy makers around the core pillars of economic recovery and the future of education."
"It will highlight new practices and new strategies in resilience and recovery that leading universities and companies are debating and implementing to transition to the post-COVID-19 new normal," Dr. Baka added.
In responding to the issue of how COVID-19 has changed the delivery of education, the panelists agreed that, while traditional learning models will be altered, the pandemic offered new opportunities in teaching and learning.
"It has given us the opportunity to accelerate many of the ideas that we have been advocating for, especially in technology and online learning, in the past few months," Dr. Abdullatif Al Shamsi, HCT President and CEO, said.
Dr Al Shamsi praised the investment in education by the UAE Government, as being a major factor in HCT's successful transition to online learning during the COVID-19 pandemic. "Investment in education always comes first. For the last 10 years education has been given the highest priority by our government and our leaders. From HCT's perspective, this heavy investment in technology infrastructure is helping our students to be more engaged in education through a variety of technological tools, allowing us to put the blended learning concept in place. Therefore the transition to full online learning has been very smooth," he said.
As a result of the student and faculty engagement in the online transition, HCT provided nearly 1.4 million hours of teaching and learning and more than 66,000 hours of recorded assessments, in approximately three months.
Dr. AlShamsi said that for the near future, education will not be the same as pre-COVID-19. "This generation (of students) is more excited about this learning mode. This is the way to move forward. It is a golden opportunity for us as educators to change education to the next phase and accelerate many of the changes that we have been hoping for," he said.
Professor Feridun Hamdullahpur, President and Vice-Chancellor of the University of Waterloo said the COVID-19 pandemic didn't create anything new for educational institutions, but has caused universities to devise more effective ways to teach and assess students, including through online learning. "It has unmasked a number of things that many of us were reluctant, or slow, or hesitant in embracing. These are good challenges and I see every challenge as opportunities in disguise," he said.
Professor John Board, Dean of the Henley Business School at University of Reading, said in terms of executive education, the effects of COVID-19 has meant that "business will be business". "We are adapting what we have always done, the nature of the workplace is different. The new focus will be on self-reliance and adaptability. Business schools adapt to the markets we serve and adapt to the knowledge that is needed," Prof. Board said.
This will result in changing the leadership mindset to placing more trust in employees as individuals working from home, while promoting flexibility of education, he added.
Dr. Yehya Al Marzooqi, Executive Director, Strategy at Tawazun Economic Council, said it was a time for educational institutions to "re-bundle". "They need to re-think how they are operating. They need to be learner-centric and need better alliances, more collaborations with the industry sectors," Dr. Al Marzooqi said.
He added that major changes, rather than incremental changes, were needed in higher education, including avoiding the silo model of universities operating independently from industry sectors. This was echoed by Professor Feridun Hamdullahpur, who noted that the University of Waterloo worked with 6500 employers around the world as part of engaging with industry in its education delivery model.
The panels concurred that the post-COVID-19 pandemic conditions would see a greater emphasis on job-relevant skills. Dr. Abdullatif Al Shamsi said a major issue to be addressed was "how do we prepare our graduates with the skills that are needed for the jobs that we don't know about yet?'.
He said HCT had devised its "Persona 4.0| model for graduates, which combined the traits of a "Digital Persona" (digital and technology competencies), "Professional Persona" (specific micro-credentials) and an "Entrepreneurial Persona" (develop SMEs and entrepreneurs). "The focus on skills is very critical, and so is working with industry," he said.
Professor Feridun Hamdullahpur said a combination of knowledge generation and talent generation will be needed to address future industry needs, obtained by key collaborations between academia and the industry sectors. This could result in bespoke, blended learning, with some students engaging with 100% online learning, while others obtained micro-credentials.
"The inaugural roundtable, operated through CERT's Menasati Online Learning Solution, attracted more than 680 attendees from a wide range of governmental, private and academic entities. The resounding success of this forum will see further, similar online events being hosted by CERT"  

Dr. Baka said.
About CERT
The Centre of Excellence for Applied Research & Training (CERT) is the commercial and training arm of the Higher Colleges of Technology. CERT has trained over 20,000 UAE Nationals over the past 24 years across different industries and practices. CERT aims to deliver economic and strategic value to the UAE through its commitment to excellence, the development of human potential and the adoption of state of the art technology.
To learn more, visit www.cert.ae
For media inquiries please contact Noor Arafat at [email protected]
Share on