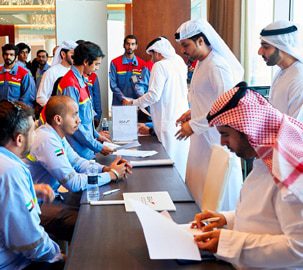 ABU DHABI, November 6, 2019:
CERT & Mubadala Investment Company Boost Emiratization Efforts for 1200 Emiratis With Train for Work Program
800 UAE Nationals offered jobs upon completion of Program
ABU DHABI, November 6, 2019: In a major boost to Emiratization efforts, up to 800 Emirati men and women have been placed in jobs as part of an innovative Train for Work program undertaken by the Centre of Excellence for Applied Research and Training (CERT), the commercial and training arm of the Higher Colleges of Technology (HCT), provided in cooperation with the Mubadala Investment Company.
The program is aimed at creating training and developing opportunities for young Emirati Nationals, to enable them to find meaningful job opportunities. Around 1,200 young Nationals have already undertaken training under this program.
Dr. Abdullatif Al Shamsi, HCT President and CEO, stated: "The mutual cooperation between the Centre of Excellence for Applied Research and Training and Mubadala Investment Company reinforces their continuous endeavors toward contributing to the achievement of common goals, represented in the empowerment of nationals by equipping them with labor market skills and preparing them for the workplace."
He affirmed that Emiratization is a top priority in the UAE strategy, and CERT, in its capacity as the research and training arm of HCT has vast experience and specialty to develop specialized training programs that are well suited for the needs and requirements of the various institutions and industries.
Dr. Al Shamsi added: "Emiratization is a first priority for the Higher Colleges of Technology which reflects its commitment to the implementation of all the initiatives and educational and training opportunities that enable young nationals to find employment in both the public and private sectors and contribute to the development of the UAE."
Homaid Al Shimmari, Deputy Group CEO and Chief Corporate & Human Capital Officer at Mubadala Investment Company, said: "The objective of the Train for Work program is to develop the hard and soft skills of young Emiratis to prepare them to succeed in today's dynamic work environment. To-date, we have been very pleased with the results of this initiative, with almost 800 Emiratis joining the Mubadala group after entering the program. This is a testament to the hard work and commitment of both the Centre of Excellence for Applied Research and Training, as well as all the young people who have shown tremendous commitment and determination to take advantage of this unique opportunity."
Dr. Mohammed Baka, CEO of CERT, said: "We are pleased with the joint efforts between CERT and Mubadala, as well as the fruitful outcome of the Train for Work program whose objective is to create training and employment opportunities for nationals, as Mubadala succeeded in recruiting nearly 1,200 male and female nationals. The CERT program provides 6-month training for job seekers holding high school certificates, and Bachelor's and Master's Degrees.
He added that the program is followed by a work placement period of 18 months with Mubadala companies, with guaranteed jobs completing the program. Most students in the training program have demonstrated advanced competencies and high efficiency since the first month of training.
The hands-on program is offered in HCT's campuses in Abu Dhabi, Al Ain and Dubai, targeting male and females who were not able to find job opportunities for over two years. Specialized training is provided to meet the needs of Mubadala companies in the areas of healthcare, finance, banking, maintenance, aviation, Information Technology, Media, and oil and gas.