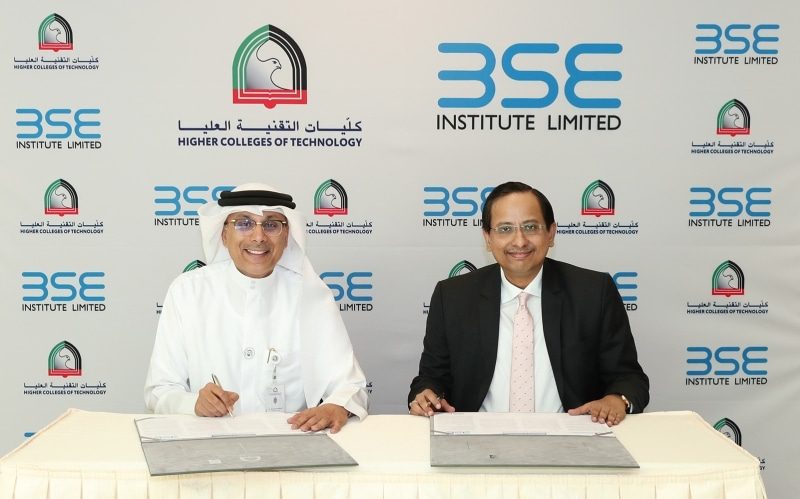 CERT -the commercial and training arm of Higher Colleges of Technology - and Bombay Stock Exchange Institute sign agreement to develop national talent in the Financial Sector
Abudhabi : 25 March 2018
The Higher Colleges of Technology, represented by the Centre of Excellence for Applied Research and Training (CERT), have signed a cooperation agreement with the BSE Institute of the Bombay Stock Exchange to develop and expand the process of providing vocational training solutions for capacity building and workforce skills in the country and the region in areas related to the financial sector and financial markets.
The agreement was signed by Dr. Abdullatif Al Shamsi, President and CEO of the Higher Colleges of Technology, and Ambaresh Data, CEO of The BSE Institute of Bombay Financial Market, in the presence of Dr. Mohamed Baka, CEO of CERT the commercial and training arm of the Higher Colleges of Technology and Dr. Adel Al Ameri, Deputy Director of the Higher Colleges of Technology for Strategy and Future.
The cooperation agreement focuses on the areas of "VAT", "Insurance" and financial market technology for cryptocurrency, as well as Block Chain technology, which today represents a revolution in the world of cryptocurrency and is dedicated to storing digital transactions over the Internet.
Dr. Mohammed Baka stated that the agreement with BSE in Bombay represents an important step that confirms the role of CERT in providing the best training programs for students and employees in various institutions, in line with the changing developments in the labor market.
He pointed out that in accordance with the agreement, "CERT" will work to provide existing or especially tailored professional courses for a variety of areas related to finance, which meet the requirements of foundation training, vocational training for various sectors and jobs and professional certification. CERT will attract students by providing an appropriate curriculum, relevant content and rigorous assessment.