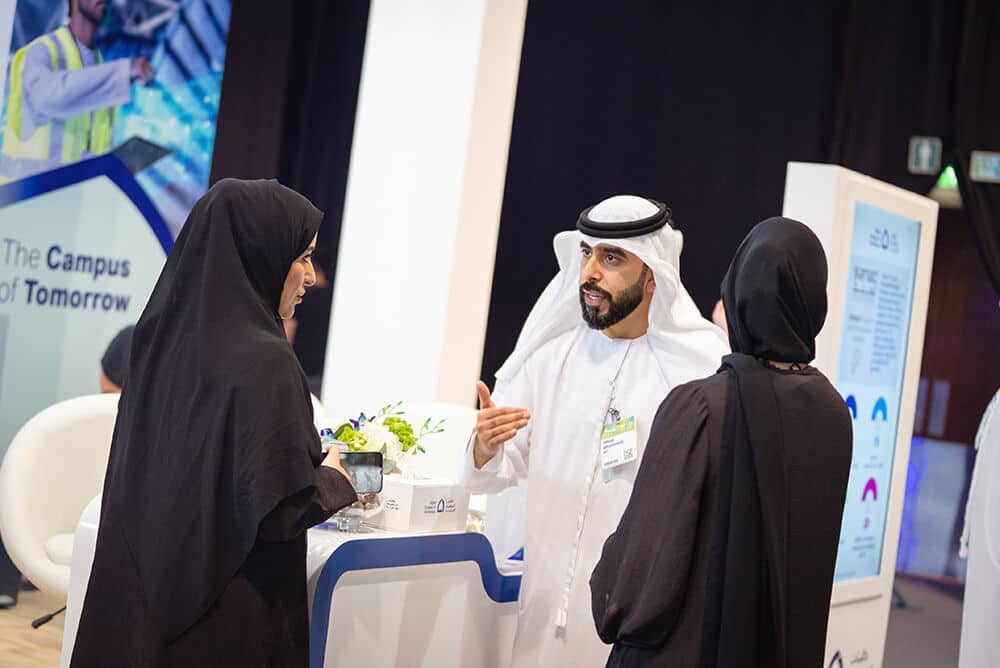 HCT & CERT participated in a unique stand in the "Ru'ya, Careers UAE 2022"
The Higher Colleges of Technology (HCT) and its commercial arm, the Centre of Excellence for Applied Research & Training (CERT), showcased its selection of employment opportunities for UAE Nationals, when it participated as an exhibitor at the Ru'ya, Careers UAE Redefined 2022 exhibition at the Dubai World Trade Centre.
Throughout the 3-day careers exhibition, HCT presented a variety of academic and administrative posts, while introducing its strategic initiatives to enhance Emiratisation in its system. CERT offered employers, across a wide cross-section of industry sectors, the opportunity to design bespoke employee training and qualifying programs. These specialized training programs will support employees' professional development, upskilling and continuous learning, while advancing Emiratisation initiatives across different business sectors.
Mr. Jasim Alhammadi, HCT Chief Operating Officer, said it was a strategic priority for HCT to participate annually in various career exhibitions across the UAE, as they are a vital tool in attracting skilled National human capital, while offering job seekers the opportunity to meet employers and apply for jobs. As a result, he said the exhibitions contributed to Emiratisation initiatives, in the public and private sectors.
Mr. Alhammadi added that HCT offered a variety of jobs, including 64 administrative and academic jobs, noting that the exhibition was an ideal opportunity to attract highly skilled and experienced Emirati cadres. He said HCT offers a range of initiatives and programs that attract national cadres and boost its Emiratisation rates, including HCT's HADEF program. HADEF targets Emiratis from various academic backgrounds, with Bachelor and Master's degrees, who are keen to work in teaching.
Another Emiratization initiative by HCT is its SANAD program, which employs HCT new graduates in administrative positions at HCT for a 3-6 months, so as obtain relevant real-world work experience with the aim for future jobs, particularly at HCT. To date, the program has attracted 351 graduates.
Commenting on CERT's participation with HCT at Careers UAE, Mr. Abdullah Alameri, CERT's Acting Chief Operating Officer, said its presence at Careers UAE was perfectly aligned to its vision of advancing life-long training, qualifying and learning programs. He added that such programs are vital to ensure the quality and efficiency of employees and their ability to be productive in competitive working environments. "Employees are required to keep up with the latest developments and continually evolve in their knowledge and performance," Mr. Alameri said. He noted that CERT also provides advisory services, development solutions and applied research across industry sectors.
Mr. Alameri added that CERT's participation enabled public and private sector employees to be familiarized with CERT training programs, as well as for employers to design specific employee training programs. He said CERT was able to draw on its long-standing experience and its local and international partnerships.
Mr. Alameri said that CERT has implemented more than 400 training projects for a number of different institutions, which has enhanced employment opportunities for more than 50,000 UAE Nationals. He highlighted the collaboration with the Mubadala Investment Company for a "Train for Work" initiative, which trained more than 1,200 national cadres and who were employed after completing the program.
In line with its commitment to developing and adopting global best practices in training, CERT has recently obtained a new license from the National Qualifications Centre, empowering it to be a certified training provider for national qualifications for the next three years. It also maintains partnerships and collaborations with accredited bodies for standard tests and training programs, including the Commission for Academic Accreditation, the National Qualifications, the British Council and Cambridge.
CERT is the only provider of Tax Administration Diagnostic Assessment Tool training programs on fiscal and financial skills in the UAE and the Gulf region, currently offering a global standard TADATx program on tax administration.