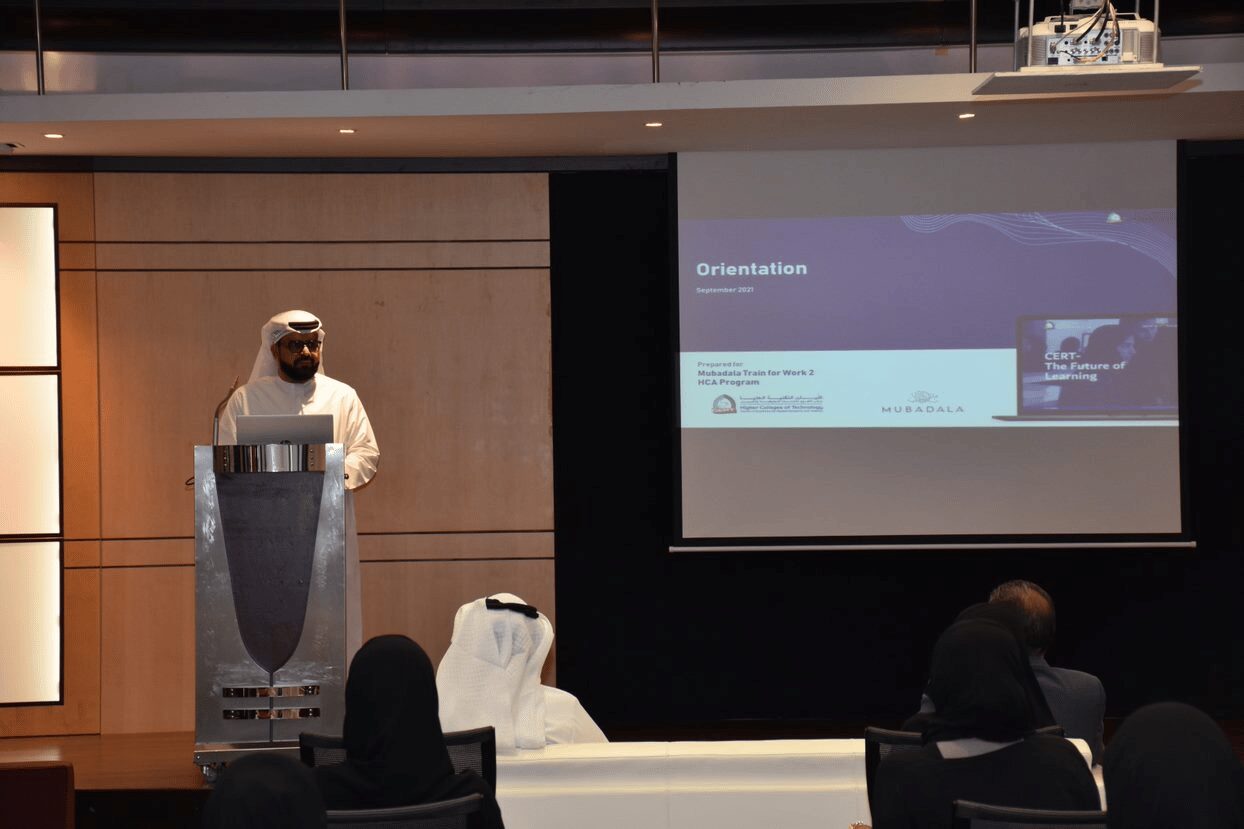 Mubadala signs MoUs with CERT to support "Train for Work" initiative to Upskill 500 UAE Nationals
Train For Work: Mubadala Upskilling Program Announces two MoUs and Second Cohort of 500 UAE National Talents
Abu Dhabi (UAE), XX August 2021 – Mubadala Investment Company, an Abu Dhabi-based sovereign investor, announced the signing of two Memorandums of Understanding (MoU) between Mubadala and the Human Resources Authority (HRA) and the Center for Excellence of Applied Research and Training (CERT). The MoU's outline how the HRA and CERT will support the technical and healthcare elements of the second cohort of Mubadala's "Train for Work" initiative, which is working to upskill a further 500 Emirati youth.
The "Train For Work" program serves to meet the objectives of Emiratization and contribute to the development and sustainability of the emirate's economy through investing in the national human capital. As part of their training, the trainees will be joining companies across Mubadala's diverse portfolio in the fields of healthcare, digital, finance, technical and administrative domains.
In addition to training, trainees will be supported throughout their development with assessments, coaching, mentoring, upskilling, and reskilling by being allocated to one of Mubadala's assets, which includes Cleveland Clinic Abu Dhabi, the Imperial College London Diabetes Center, National Reference Laboratory, Capital Health Screening Centre, Healthpoint Hospital, Amana Healthcare, Sanad Aerotech, Masdar, Abu Dhabi Entertainment Company, Abu Dhabi Telemedicine, Yahsat, and Emirates Global Aluminum.
Dr. Abdullatif AlShamsi, HCT President & CEO, stressed that Emiratization is the responsibility of all, and that inter-institutional cooperation in education, training and employment can provide strong support for the UAE's Emiratization efforts. He also highlighted the importance of the partnership that brought together HCT, represented by the Centre of Excellence for Applied Research & Training (CERT), with the Human Resources Authority and the Mubadala Investment Company to instigate the Train for Work program.
Homaid Al Shimmari, Deputy Group CEO, Chief Corporate & Human Capital Officer, said: "We have a deep-rooted belief that education and experience go hand-in-hand. Hands-on experience and training and partnerships between the public and private sectors provides immeasurable value towards cultivating skillsets, building expertise, and forming connections. Our 'Train for Work' initiative is a reflection of our commitment towards our local talent and driving economic growth in the UAE."
Amal Al-Jaberi, Acting Director General of the Human Resources Authority, affirmed that this cooperation is an important step to increase employment opportunities for national job seekers and to enhance their role and contribution to the development.
She added: "We are working in the HRA on plans that support the future of the labor market in Abu Dhabi, and we are keen to open channels of communication and cooperation with all parties to develop human capital, and to strengthen the work-frame that keep pace with the development of the UAE. Emiratization is a strategic priority that requires integration between the government and private sectors".
And she praised the strategic partners and participants for their efforts and giving opportunities for national competencies.
He said, "This partnership is a remarkable example supporting the Emiratization drive, based on complementary roles, which involve identifying job seekers through the Human Resources Authority and offering them specialized training programs according to the actual labor market needs. This role is facilitated by HCT, through CERT, to culminate in the job seekers eventually being employed by Mubadala, subject to vacancies available at its affiliated companies."
He noted that the outstanding success of the program's first batch has prompted HCT to receive a new cohort, which is expected to include 500 UAE Nationals, who will be trained in healthcare, medical assistants, translators and aviation technicians. They will also receive general technical training.
The first cohort, which ran from 2019 until the end of 2020, recruited approximately 1,200 Emiratis into the program, including People of Determination. The initiative reflects Mubadala's and the HRA's commitment towards cultivating the capabilities of young Emirati talent. With Train for Work, Mubadala aims to create a learning and development ecosystem that is based on best-in-class practices, while equipping young Emirati talent with the skills of the future, increasing their employability prospects, and placing them in positions best suited for their career growth and aspirations.
Later this year, Mubadala will enter strategic agreements with the Department of Education and Knowledge (ADEK) for the digital domain, as well as Deloitte, KPMG, RAI, and Ernst & Young for the finance domain.