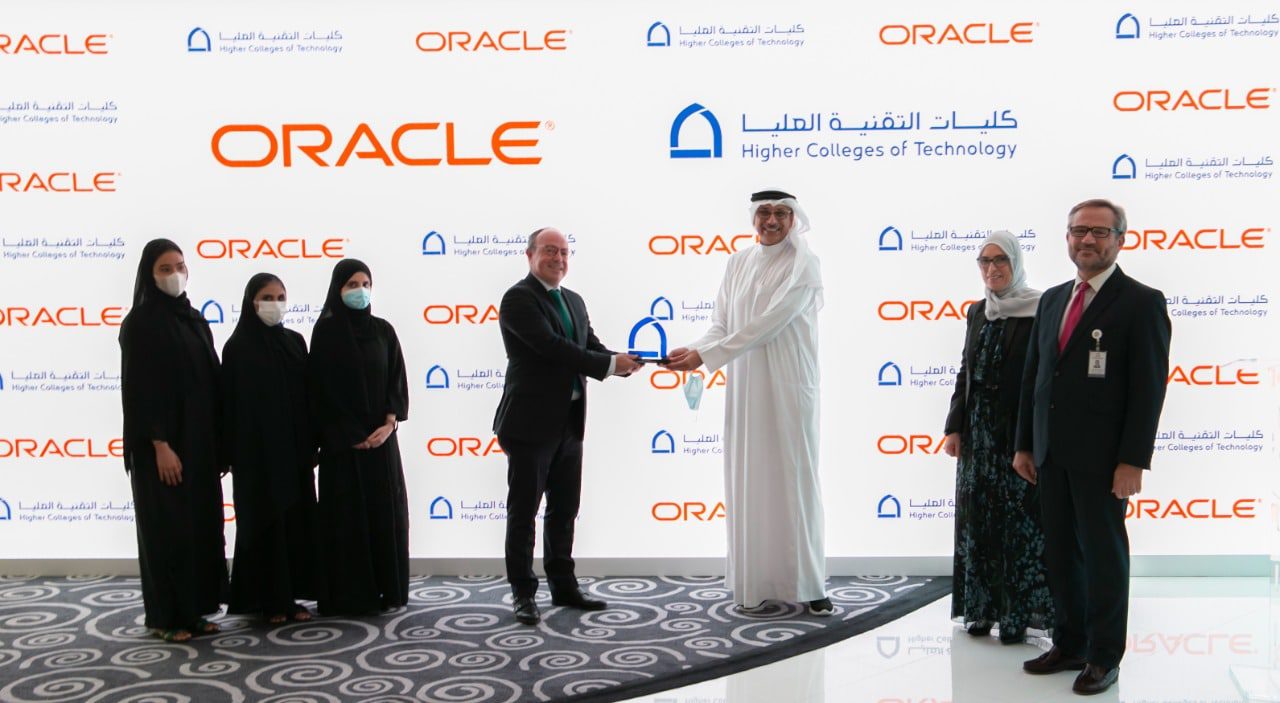 Through HCT & Oracle Collaboration, More Than 1000 HCT Students Participated in Upskilling Program on AI & Emerging Technologies
Through HCT & Oracle Collaboration, More Than 1000 HCT Students Participated in Upskilling Program on AI & Emerging Technologies
Dubai, United Arab Emirates, 11 October 2021: –The Higher Colleges of Technology (HCT), and its commercial arm, the Center of Excellence for Applied Research & Training (CERT), celebrated its collaboration with Oracle over the past year.
The objective of this collaboration was to showcase the real-life applications of emerging technologies and apply the same into enterprise use-cases using Oracle solutions. 1098 Emirati students of HCT participated in this upskilling program during the last year, and 960 HCT students have received their upskilling certificates.
This celebration took place in the presence of Professor Abdullatif AlShamsi, HCT President & CEO, Dr. Mohammed Baka, CEO of CERT, Leopoldo Boado Lama, Senior Vice President – Business Applications, ECEMA, Oracle, Abiy Yeshitla, Vice President – Cloud, Middle East and Africa, Oracle, and a number of Oracle-trained students who have completed the training programme on AI and its applications.
Professor Abdullatif AlShamsi, HCT President & CEO, lauded HCT's collaboration with Oracle, being its strategic partner in achieving institutional digital transformation, as a company specialized in computer software, information technology and artificial intelligence. He noted that the HCT cooperated with Oracle to implement training programs for students in AI skills and to offer them the opportunity to obtain accredited certificates in AI technology, with about 1100 students who have attended Oracle's workshops which contributed to keeping them closely updated about advanced technologies and their applications.
Professor AlShamsi noted that this would help students learn the basics of these modern technologies and motivate them to continue developing their skills, especially under the HCT 4.0 strategic plan, which focuses on building the student's 'Digital Persona' to be able to deal with modern technologies and utilize them optimally in education and practice.
"The development of a strong local IT talent pool is vital for the success of UAE's Fourth Industrial Revolution Strategy. At Oracle, we have accelerated our efforts to empower UAE's next gen workforce with latest IT skills needed to succeed in the digital economy. The successful completion of our upskilling program for more than 1000 students with Higher Colleges of Technology is a testament to this commitment", said Leopoldo Boado Lama.
Professor AlShamsi pointed to another aspect of the cooperation between the HCT (through CERT) and Oracle, related to Blockchain technology, which represents one of the important technologies that is used in educational institutions to provide advanced technological services and solutions to facilitate and support quality performance, in line with the Emirates Blockchain Strategy 2021, which aims to transform government transactions into the Blockchain platform. He also praised Oracle's cooperation with "CERT" to build a reliable digital infrastructure for academic digital credentials, which would support educational institutions in utilizing this technology and transfer their academic certificates and transactions to the Blockchain platform.
"Blockchain technology provides a collaborative framework for sharing reliable data. Oracle offers easy ways to adopt blockchain technology including a cloud service, an on-premises and hybrid edition. The use case for the deployment of Blockchain in education sector developed by Oracle and CERT will certainly help in driving adoption of this innovative technology in the UAE", said Abiy Yeshitla.
Dr. Mohammed Baka, CEO of CERT, expressed his pleasure with the ongoing cooperation with Oracle to work closely together in the field of educational technology and training programmes for students, especially in the area of artificial intelligence technologies and their applications. He also noted that this partnership would advance the adoption of this cutting-edge technology by developing a Blockchain capacity-building program, which supports specialized training of UAE Nationals in 4IR technologies. Dr. Baka added that emerging technologies, such as Blockchain, would accelerate the adoption of digital transformation strategies across government and enterprises in the UAE, in alignment with the national visions.